EcoLog has for sure been active this year! They merge with Gremo and extends their machine range, especially with small forwarders. And now, they launch yet another forwarder, the sixths in the EcoLog forwarder range.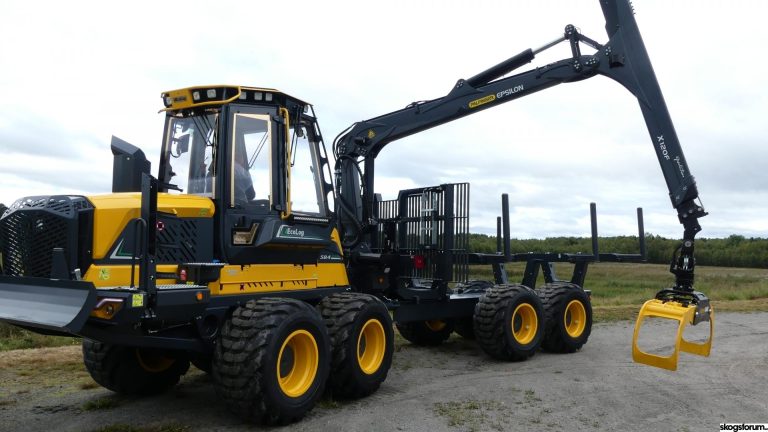 EcoLog 584F
According to EcoLog, the new 16-tonner 584F will fill a gap in the range in an attractive forwarder segment. This means that EcoLog has gone from 2 forwarders in their range by the beginning of this year, to 6 in the span from 8,5 tons to 20 tons payload.
The sister site Skogsforum.se had a sneak peek on the 584F and made a video where the sales manager of EcoLog, Mikael Frimodig, tells us what´s new. Here is a summary:
More power in the EcoLog 584F
The new 16-tonner is based on the same frame as the 14 tons 574F and the measurements are identical with the 14-tonner. The difference is a stronger bogie that is approved for 16 tons payload, but also the engine is stronger. The 584F has the same 286 hp Volvo Penta stage V engine as the harvester 580F.
The larger engine gives the EcoLog 584F approx. 7 % more torque and approx. 15 % better traction (225 kN) compared to the 574F (195 kN).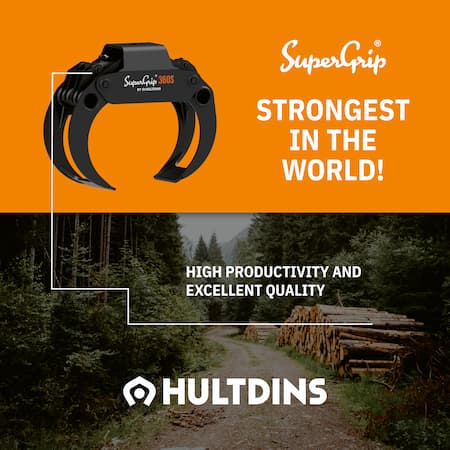 Hydraulics as on the 594F
The standard hydraulic pump on the 584F is the same 175 cm3 as on the smaller 574F. A larger pump is offered as an option, the same as on the 594F, a 210 cm3 pump. The larger pump works excellent for the Epsilon cranes that, according to Mikael Frimodig, is becoming more and more popular on the EcoLog forwarders.
Different loading areas
In conjunction with the launch of the 584F the different offered loading areas are sorted out. There are two versions: H = Hydraulic raiseable bunks and FH = Full hydraulic bunks (height/width). The sizes have been straightened for the 14-tonner 574F that now have 5,2 m2 as the largest option. The new 584F can be equipped with loading areas from 4,5 to 6,1 m2, and the 594F up to 7,2 m2.
Already on the market
The first 584's are already ordered and will be delivered before the end of the year. EcoLog enters 2021 with six different forwarders in the range:
| Forwarder | Load capacity | Load/weight ratio |
| --- | --- | --- |
| Eco Log 750F | 8500 kg | 0,77 |
| Eco Log 1050F | 10500 kg | 0,84 |
| Eco Log 1250F | 12500 kg | 0,76 |
| Eco Log 574F | 14000 kg | 0,70 |
| Eco Log 584F | 16000 kg | 0,76 |
| Eco log 594F | 20000 kg | 0,85 |
Here is a comparison between the 584F, 574Fband 594F:
Specification/Forwarder
Eco Log 574F
Eco Log 584F
Eco Log 594F
Load capacity (kg)
14000
16000
20000
Machine weight (kg)
20000
21000
23500
Width (mm)
2640
2910
3155
Load space (m2)
4,1 - 4,7
4,5 - 5,2
4,5 - 7,2
Engine (type)
Volvo Penta 6 cyl D8
7,7 liter, StageV
Volvo Penta 6 cyl D8
7,7 liter, StageV
Volvo Penta 6 cyl D8
7,7 liter, StageV
Power (kW/Hp)
185/252
210/286
235/320
Torque (Nm)
1160
1237
1310
Tractive effort (kN)
195 (205)
225
260
Pump size (cm3)
175
175 (210)
175 (210)
Wheels (in)
26,5
26,5
28,5
Crane options
Cranab FC13/FC16 alt
Epsilon S110
Cranab FC16 alt
Epsilon X120
Cranab FC16 alt
Epsilon X120/X140
Film and photos
Eco Log 584F - Ny skotare från Söderhamn