KWF, the German Centre for Forest Work and Technology, "Kuratorium für Waldarbeit und Forsttechnik e.V.", are to most of us known for their forestry show KWF Tagung. In August 2020, the former CEO Dr. Seeling left the KWF. Bernhard Hauk has been acting CEO since then. On the 12th of July 2022 KWF informed that Mr. Hauk is appointed regular CEO from now on.
Bernhard Hauk appointed new CEO at German KWF
Bernhard Hauk came to the KWF 26 years ago. Through the years, he has had different positions within the organization. For 10 years, until Dr. Seeling left, he was the deputy CEO. As mentioned above he has been acting as CEO since September 2020. Apparently, he has made an excellent job as the board of directors finally decided to give him the job permanently.
"We are extremely pleased to be able to announce the decision. Furthermore, we are pleased to have convinced Mr. Hauk to take on the challenge. With his long-term expertise, he is for sure the right person to lead the KWF and the planned projects, for example, to implement the digitalization strategy and the "KWF 2030", says Dr. Heinz-Werner Streletzki, chairman of the KWF board of directors.
Bernhard Hauk himself explains that he from the start was convinced that an external resource would be what KWF needed. The two years with him in the leading position, made him realize that the temporary solution could work both for him and the KWF.
"I thank the board of directors for the given trust during the last two years and look forward to the future tasks and challenges," says Hauk.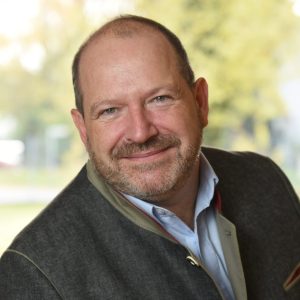 KWF – more than a fair
The KWF may be most famous for us non-German forestry people for the forestry fair. But they do so much more. Their main tasks are research and testing forestry equipment. You can read more about that in a previous article here at NordicWoodJournal.com. And, of course on their home page (but then you must shape up your skills in the German language).