According to a press release from KWF on 27. January, Prof. Dr. Ute Seeling, managing director for "Kuratorium für Waldarbeit und Forsttechnik e.V.", KWF leaves her position on 31. August this year. On the 1. September she starts her new career as director for the University for Agriculture-, Forest and Food science in Bern, Switzerland.

Ms. Seeling came to KWF in 2007 and has been managing director since then and will continue until the 31. August. For most people outside Germany KWF is most known for their forestry fair KWF Expo that has grown to be the largest forestry trade fair in the World with 50 000 visitors. Next issue of the Expo will be on 1. – 4. July this year in Schwarzenborn. You will find more information about that on their home-page.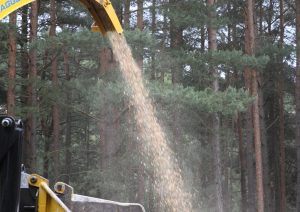 Apart from the fair KWF are a research institute for forest and forestry technology. Among other things they do testing of equipment for the forest and even have their own KWF certification.
We at NordicWoodJournal.com will most likely have reason to write more about KWF and their activities in the future.