The organizer of the Swedish Forestry Expo, the Swedish Trade Association for Suppliers of Mobile Machines, ML, informs in a press release that the forestry show will come back on 3rd – 5th June 2027. The show had its premiere on a horse racing track close to Stockholm, Sweden, in June this year. 

The Swedish Forestry Expo will be back in 2027
There have been lots of discussions and questions around the machine supplier's "own" fair Swedish Forestry Expo that took place for the first time in June 2023. It was originally planned for June 2021 but was postponed twice due to the Covid-19 pandemic. Eventually, on the 1st – 3rd of June, it opened its gates at the horse racing track Solvalla north of Stockholm.
The background for that ML decided to make a show of their own, instead of attending the classic Elmia Wood show, was a discussion about the form of Elmia Wood which they thought was too big and too thematically wide. A discussion that started at the end of the 80s and has been going on ever since. 
Big machines but no forest
For the fans of machinery for large-scale logging, this was the place to be. All the major brands of CTL machine manufacturers were there. But those of us who are interested in forestry in general were disappointed. E.g., all chainsaws were banned from the fair even though the organizer promised a fair for "professional forestry". Log trailers and log loaders were also banned, just like equipment for timber trucks (and trucks in general).
Firewood makers had nothing to see at the fair. I met some locals who had taken advantage of the free entrance to see some forestry but were surprised the fair's theme was so narrow. One exhibitor I spoke to expressed his disappointment as he heard from his machine customers that they expected more. He pointed out that machine contractors can also be house- and forest owners interested in chainsaws and firewood equipment.
Many visitors missed the forest environment that traditionally belonged to a forestry fair. The good thing about this fair was that it was compact. You could easily go around it four or five times a day. The possibilities to try out the machines were however limited.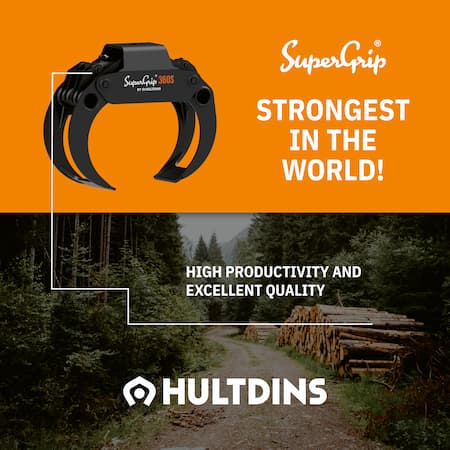 Good for Elmia Wood in 2025?
For the Elmia Wood organizer, this could be both good and bad. The bad thing is that ML decided to move on with the Swedish Forestry Expo instead of teaming up with Elmia again. On the other hand, the date 2027 opens for those ML members who wish to participate in Elmia Wood 2025. The question is how unified they are.
I hope Elmia Wood will keep going and even convince some large-scale machine suppliers to participate. I agree with those who say that a forestry show should be in the forest.