The recently ended forestry show FinnMETKO, or just Metko, had a lot to offer. Several of the exhibitors presented news. One of them was Logset who presented a new design based on the familiar black and silver colors and some other interesting details.
Logset presented a new design – and more
The most obvious update is the color design. It's still the familiar combination of black and silver, but different design. Whether it is better, more beautiful, or not was discussed at the Metko. A good sign that the marketing effect of the change worked. I personally have absolutely no feeling for colors or design, so I rest my case. Judge for yourself …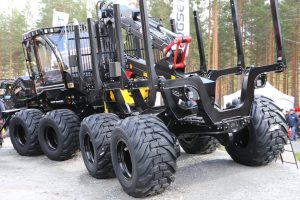 … and more
Most of the updates were on the forwarder Logset 5F which was properly overhauled. A new cabin with an integrated food heater and a new HI-FI system. The rear computer screen is moved from the side to the rear of the cab so that the operator has it directly in eyesight when sitting in the operation position, which is turned backward.
Also, for the comfort of the operator in the backward/operating position the front camera was moved from the side to the center of the machine to give a better live view when moving the machine forward.
The windscreen wiper blades have been upgraded for better coverage of the windscreen. A new door is also in the news. Furthermore, the frame under the cab is new and has more torsional stiffness and the front of the forwarder has been redesigned to give the machine more ground clearance, and a better "attack angle".
Harvester, crane, and more information
The TH65 harvester head has been updated with new hydraulics, lower weight, and an improved cutting function. The cranes have been updated with an active damping system on all functions meaning that the crane automatically slows down when the function closes in on the end position.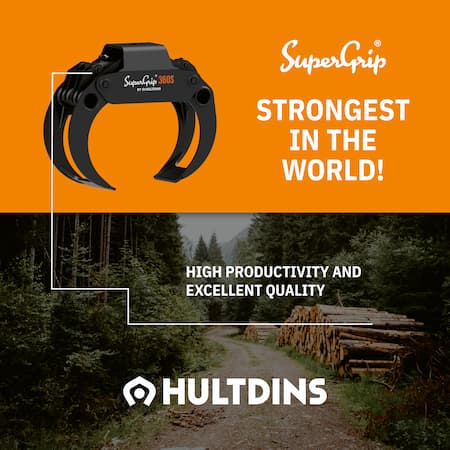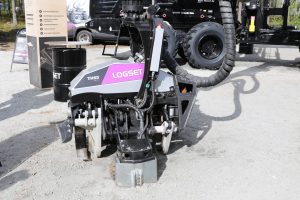 Find out more about Logset and its machine range on their homepage here.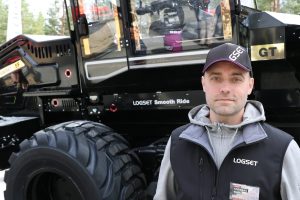 Photos: Per Jonsson