The APF show took place this year on the 22nd – 24th of September. Some 23.000 visitors came to see all kinds of equipment for forestry, timber, tree management, bioenergy, woodland management, and fencing.
Processing the wide ones
One of the over 300 exhibitors at the APF show was Wood-Mizer. A familiar manufacturer of portable sawmills that we have written about here at nordicwoodlogging.com before. This year they focused on machines with broader cutting capacity, the WIDE range, at APF. The LT70WIDE, the LT40WIDE, the LT15Classi WIDE, and the LX 250, designed to process logs up to 138 centimeters (54 inches) wide were all shown at the show.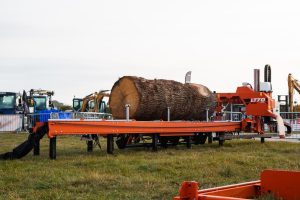 Also, other Wood-Mizer equipment connected to sawmilling was demonstrated at the APF. The MB200 SlabMizer, the MP300 board edger, the MP360 planer/molder, and the LT20 sawmill with the CookieMizer for producing round wood cookies.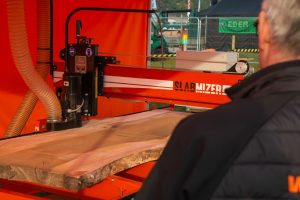 One shouldn't forget that even though Wood-Mizer is generally called a mobile sawmill, it could also be the heart of a professional saw-line. Like the one, you will find an article about under this link.
40/40
Another thing that was noticed at the Wood-Mizer stand was the 40s anniversary of the Wood-Mizer LT40. The bestseller since 1982 that revolutionized the sawmilling industry by allowing ordinary people to mill the logs quickly, affordable, and anywhere.
The LT40 WIDE mobile version with a gasoline engine was sold during the APF to the Forestry Department of Balmoral Royal Estate in Scotland. So, even the King now has one …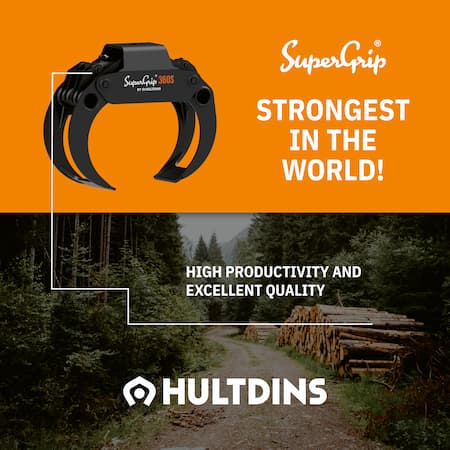 Here is a film that Wood-Mizer made about their participation at the APF show.
APF Show 2022 in the UK | Wood-Mizer
The mobile revolution
Portable sawmilling is nothing new. My very first colleague as I started working in the forest used to tell stories about how he, as a trucker, used to move sawmills around in the woods during the 1950s. Of course, those were not as mobile as today's portable sawmills. You couldn't pull them after a car or a truck. You had to load them on a truck and set them up properly on every working site. Many of them eventually became stationary to be used by forest farmers and their neighbors who came to make lumber for maintenance, etc., on their farms.
Most common today is to hire someone like Christer Engström and his Wood-Mizer to come and do your lumber in your backyard. That is what I would call the mobile revolution. The one that started sometime about 40 years ago and where Wood-Mizer definitely was a pioneer. Many forest owners bought a sawmill and started milling their lumber.
The range in price (and quality) for portable sawmills is wide. That means that anyone can have one which is a good thing if you are searching for alternatives to selling your timber too cheap. Becoming a good sawmiller takes some practice, however.