The Swedish machine manufacturer Vimek is famous for its small forwarders and harvesters. The next generation of machines is slightly bigger. We wrote about this machine before. Then, it was simply called "Next Generation". Now, it has been given a model name – Vimek 870.1 NG.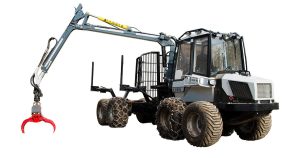 Vimek 870.1 NG – about to grow up
The other Vimek forwarders 606 TTSE and 610.4 have a weight and loading capacity of 3 respective 5 tons. Both have load index 1 (loading capacity and machine weight are the same). That is also the case for the 870.1 NG, which weighs and loads 7 tons.
The new forwarder is in other words 40 percent heavier and has a 40 percent higher loading capacity than the predecessors. It's obvious that Vimek is aiming for a new target group. Maybe fewer private forest owners and more full-time contractors?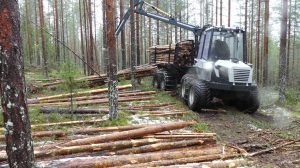 Eight wheels and dual steering
We have already mentioned the weight and the loading capacity, 7 + 7 tons = 14 tons with a full load. This is carried by eight wheels. The width of the 870.1 NG differs between 1,95 – 2,25 meters depending on what tires are used. The length is 7,7 meters.
To give the machine good tracking, and make it smooth in thinning, it's equipped with dual steering. It means that the rear boogie is also steering which makes the machine flexible in tight spaces.
The crane is a Cranab with a 6,7-meters reach. The engine is a 55 kW CAT.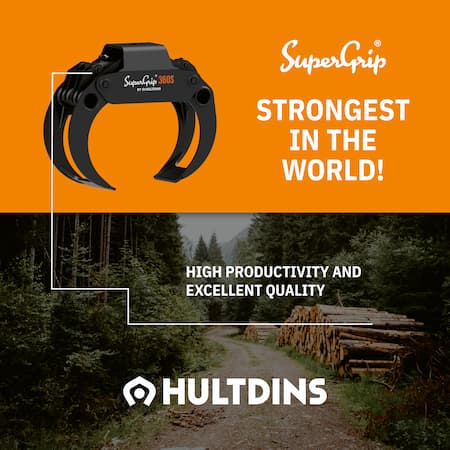 You can read more about Vimek and their machines on their home page.
Here is the film about the Next Generation Vimek again:
Vimeks nya skotare (Next Generation)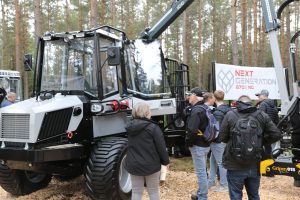 Is the market for small machines under awakening?
Looking back in the history of forwarders there have always been small ones available. Smooth machines like the Mini Bruunett, RK66 Snorre, LL-Trollet, Timberjack 810, etc. They were light and loaded approximately their own weight, and they were loved by the forest owners.
But the forwarders have grown. Also, the small forwarders are getting heavier and heavier, and today they weigh much more than their loading capacity, most of them anyway. The exceptions have been the small machines, like Vimek and Malwa, who have stuck to the weight/load ratio of 1:1, or load index 1.
When looking at the interest in machines like the new Vimek and Malwa, one might think that the small machines are coming back. I think many forest owners wouldn't mind seeing smaller machines in their forests again. But of course, as always, it's a matter of short-term costs as well.
Vimek 870.1 GN vs. RK66 Snorre
Just out of curiosity, I took the liberty of comparing the new Vimek 870.1 GN with the classic RK66 Snorre that was popular in the 70s and (for a while) in the 80s:
RK66 Snorre vs. Vimek 870.1 GN
| | RK66 Snorre | Vimek 870.1 GN |
| --- | --- | --- |
| Weight, tons | 6 | 7 |
| Loading capacity, tons | 6,2 | 7 |
| Length, meters | 7,8 | 7,7 |
| Width, meters | 2,16 | 2,20 |
| Crane reach, meters | 4,7 | 6,7 |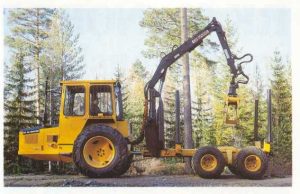 I'm not sure if one can draw any conclusions based on these facts, but it sure is an interesting development. When will the major machine manufacturers start making small and light machines again? Will they ever?